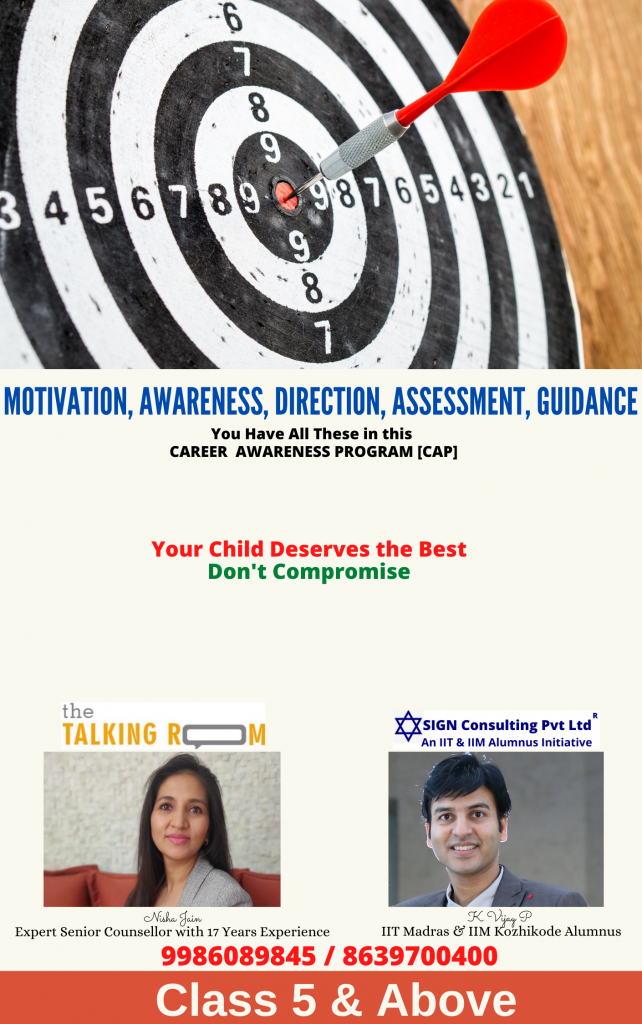 Why Career Awareness Program [CAP]?
Career Counselling program of ours consists of two levels. Level 1 is Career Awareness Workshop & Level 2 is Advanced Career Counselling. This workshop is a must & the earlier they get the awareness the much better it is. We categorized this workshop on the basis of needs mentioned below, 

Class 5 – 7 (Awareness)

Class 8 – 9 (Important)

Class 10 (Must)

11 – 12 (Critical)

Bachelors / Any Stage of Life (Crucial) 




---

Nisha Jain is the Founder of Talking Room. She is an M.Sc in Clinical Psychology with Diploma in Counselling. She is an Expert Counselor with 17 years of rich experience having groomed students of top notch colleges namely ICFAI as well as top corporate like Accenture, Cognizant, Khaitan, Exxon Mobile, HSBC, AMD India, Maersk, Linkedin to name a Few. 

K Vijay P is the MD of SIGN Consulting Pvt Ltd. He is an IIT Madras & IIM Kozhikode Alumnus and has groomed over 11,000+ students since 2010. He delivered training programs for prestigious colleges like Stella Marris to delivering Entrepreneurship Development Program (EDP) for JNTU, Hyderabad. He too has delivered corporate training programs for top notch companies like ONGC, CPCL (Subsidiary of IOCL), Indian Railways, Indian Audit & Accounts Dept, NACEN, APPA, RBI, Johnson to name a few. 

---

Schools, Junior Colleges and Colleges focuses on Academics and ignore the other aspects. This workshop considers all the facets required to hone up an individual.

Motivation and Awareness is one of the key components of the workshop.

The workshop also focuses on the various career options one can choose.




---
The workshop comprises of
Live Classes [7 Days of 1 hr each (Max 1 hr 15 min) Duration]

SIGN Awareness Test (SAT) [Online Test that comprises of 60 Questions designed by team of experts from IIT & IIM]
The workshop is applicable for 5th standard and above students. Kindly note that the earlier the child attends the much better it is as the workshop would give the much needed 'Awareness' and is full of Fun & Interactive.

It is 'Important' for 8th and 9th students as it sets the 'Foundation' for their career path. 

For 10th Standard, career counselling is a 'Must' as it sets the 'Backbone' for the student to choose the stream of study.

It is 'Critical' for 11-12th standard students as it would give them an idea on the various career options available for students to choose the branch of specialization for their Bachelor's program.

It is 'Crucial' for students pursuing Bachelor's to choose specific area wise specialization for further studies.

Further at any stage of the career, career guidance plays a very important role in giving you the required direction and we are there for it. Please note that once you are done with CAP, then go for the Advanced Career Counselling (ACC) program of ours.

---
SCHEDULE:
This workshop is spread across 2 weeks
---
FIRST WEEK
Day 1: Motivation & Importance of Teamwork (K Vijay P)

Day 2: Mind, Thought, Planning & Action (K Vijay P)

Day 3: Emotional Quotient – Module 1 (Nisha Jain)




---
SECOND WEEK
Day 4: Time Management & Stress Management (K Vijay P)

Day 5: Emotional Quotient – Module 2 (Nisha Jain)

Day 6: Effective Communication | Mobile Deaddiction (Nisha Jain)

Day 7: Career Planning &Various Options Available to Choose (K Vijay)
---
ONLINE CAREER AWARENESS TEST
Workshop is followed by SIGN Awareness Test (SAT) Model which is completely designed by Team of Experts from IIT & IIM. 
---
WHAT IS THE PURPOSE OF CAREER AWARENESS WORKSHOP?
This workshop helps students connect to experts who have enough life experiences to share. They are role models who have accomplished much and helped people in their life. The workshop helps students to get insights so that they are better equipped to understand the various facets of life & overcome challenges in hard times. We teach them various life learning lessons that are usually not taught in educational institutions.
---
OBJECTIVE OF THE WORKSHOP
Guiding students allows them to better understand the realities of a certain career,

To motivate and push them up at the highest possible level,

Try to help students to identify their strengths and as so where their passion lies,

Enabling them to change their careerchoice if they find that career does not fit their personal goals and interests 
---
IMPORTANCE OF CAREER AWARENESS WORKSHOP
Gives them the awareness to overcome hurdles in life

It helps gain confidence and clarity.

It improves their emotional quotient & helps them to manage stress.

One can plan with better time management skills & more importantly helps them to handle things in much better way based on the life learning experiences that we share.

It gives them comprehensive overview on the various career options available so that they can plan their career accordingly.